Do you feel safe and secure in the city or town you live in?
Since 2017, the Philippines has shifted in perspective from celebrating a DISASTER CONSCIOUSNESS month to a DISASTER RESILIENCE month.
Republic Act 10121, a landmark law enacted in 2010, defines disaster resilience in the Philippine context as,
"the ability of a system, community or society exposed to hazards to resist, absorb, accommodate and recover from the effects of a hazard in a timely and efficient manner, including through the preservation and restoration of its essential basic structures and functions (emphasis supplied)."

Definition of resilience from Republic Act 10121
Preventionweb provides a shorter definition for resilience: "The ability to flourish in the face of disaster risk."
RA 10121 also states that it is the policy of the State to "…strengthen the capacity of…local government units…to build the disaster resilience of communities… (Section 2e)"
How can Philippine local governments advance from knowing that disasters may occur to knowing that disasters may be prevented from occurring?
I propose four immediate actions for local government leaders to start their journey from disaster consciousness to disaster resilience.
Understand that hazards are not always disastrous.
Why do you get burned when you touch a hot pot?
Because you do it with your bare hands.
Get some mittens and see how easier it is to hold a hot pot.
Similarly, the first step towards disaster resilience, is to realize that there are #NoNaturalDisasters.
International agencies continue to use "natural disasters" to describe events that happen unnaturally.
Disasters only occur because people and property exposed to hazards are unable to cope with the impacts of these hazards.
"If a hazard occurs in an area of no exposure, there is no risk."

UNDRR
UNDRR uses the case of two Category 5 Typhoons to illustrate the unnaturalness of disasters.
Exposure to hazards can be lessened if leaders become proactive.
The simplest way to avoid disasters is to remove people and property in areas with hazards.
No people, no property, no problem!
However, moving people and property from hazardous areas is also a complex issue.
Informal settlements are at higher risks to disasters because these areas are often exposed to multiple hazards.
These hazards include floods, fault lines, rising sea levels, and storm surges.
Residents of informal settlements are more vulnerable to hazards because of social and economic conditions.
Informal settlers often have limited access to safe infrastructure and proper social services.
It will be great to remove them from hazardous areas to protect them from potential disasters!
But, one in three Metro Manila residents live in informal settlements (Morin et al., 2016).
So, relocation and resettlement strategies of local governments will affect the livelihood of around 4 Million residents.
Coastal communities are also prone to the impacts of storm surges, projected sea level rise, and flooding.
Of the 2015 Philippine population, 6% will be exposed to future sea level rise by 2050 (Kahana et al. 2016).
However, these coastal communities are also important resource areas.
These statistics from the Population Reference Bureau illustrate the importance of coastal communities.
Globally, 3 Billion people live within 200km of a coastline.
14 of the 17 largest global cities are coastal.
95% of the economy of the island nation of Maldives comes from tourism.
Additionally, at least half of the Philippine population live in coastal communities, according to the Green Climate Fund.
Concentrated activities complicate relocating populations from hazardous areas.
These facts signify the importance of proper urban planning.
Read More:
Through urban planning, population distribution and capacity assessments involving informal settlements and coastal communities can be undertaken..
For example, Manila Bay is home to at least 220,000 informal settler-families.
How can 220,000 families be relocated while also ensuring their daily subsistence?
Building disaster resilience includes promoting policies and practices that enhance connectivity, equality, diversity, knowledge, redundancy, and society (Mitchell and Harris, 2012).
The capacity of people to cope with the hazards can decrease their risk from disasters.
Societies are only as strong as their most vulnerable populations.
The following statistics from the 2018 study of the Harvard Humanitarian Inititaive on Resilient Communities demonstrates capacity levels of Filipinos.
Around 64 % of Filipinos feel self-reliant when preparing for a disaster.
82% of Filipinos get their information on disasters from TV.
83% of Filipinos claimed to have discussed emergency plans with their families.
These statistics are examples of the vulnerability and coping capacity components of disaster risk.
---
Vulnerability and coping capacity are the "human dimensions" of disaster risk.
Often, vulnerability factors are the greatest factors in determining disaster risk.
To ensure the capacity of populations against hazards, leaders should be continuously asking questions instead of expressing orders.
LIST: Articles on COVID-19 and Urban Planning
Ask the right questions to reduce disaster risk.
A prudent question is one-half of wisdom. –

Francis Bacon
What questions must local governments ask for TIMELY and EFFICIENT disaster risk and reduction?
To reiterate, resilience is characterized by timeliness and efficiency.
The Philippine Disaster Risk Reduction and Management Framework addresses four thematic areas:
prevention and mitigation,
preparedness,
response, and,
rehabilitation and recovery.
These four thematic areas are guidance areas for the strategies of local government units.
I use the case of flood-prone areas to illustrate.
| | | |
| --- | --- | --- |
| DRRM Thematic Area | Questions for Timeliness | Questions for Efficiency |
| Prevention and mitigation | When will floods happen? | How many areas are "no-build zones?" |
| Preparedness | When is evacuation necessary? | Where is the nearest evacuation center? |
| Response | How long before all affected are evacuated? | How can residents reach evacuation centers? |
| Rehabilitation and recovery | How many days before evacuees can return home? | How many working days do residents lose? |
Sample resilience questions for flood-prone areas
–
Policies and practices strengthen a society to face #NoNaturalDisasters .
A resilient society, most of all, includes the most vulnerable sectors in "flourishing" in the midst of probable damages and harm.
In resilient communities, the poor, elderly, young, women, and indigenous populations – to name some vulnerable sectors – know how, are able, and are willing to bounce back from disasters in a timely and efficient manner.
Related Articles:
How to become a Filipino Environmental Planner?
Maximize spending for disaster resilience
Financing disaster resilience is an important concerns for Philippine local governments.
It is assumed that in a developing country like the Philippines, lack of funding is a rampant cause of disaster casualties.
So, it is a great surprise that a study of the Philippine Institute for Development Studies reveals that local governments do not lack funding per se.
Local governments in the Philippines underspend budgets allocated for disaster resilience.
Local leaders are the primary actors in reducing disaster risk.
Available funds should be optimized to mitigate disaster impacts and respond to disasters.
Read: 3 Requests for Elected Officials
The funds spent on prevention and mitigation and preparedness greatly outweigh the financial and social costs of response and rehabilitation.
Two examples of hazards that we can prevent from becoming disasters are earthquakes and sea-level rise.
PHIVOLCS has been cautioning against "The Big One," a 7.6-magnitude earthquake that may happen in the National Capital Region.
If the earthquake occurs, at least 14% of the country's gross domestic product can be lost, at least 52,000 will be dead, and at least 500,000 will be injured.
By 2030, projected sea level can be higher by 20 centimeters compared to the sea level during the period of 1970-2000.
At least 25 Philippine cities are coastal.
Think of the population and building densities that may be affected in these coastal cities when the hazard of sea level rise becomes a realized disaster.
Remember, coastal communities are often resource-rich areas.
LIST: 15 Youtube Videos You Need to Watch to Increase Your Environmental Planning Knowledge
Receive articles on urban planning and solid waste management!
Learn from other resilient local governments.
Examples of resilient local governments already abound!
Wise local government leaders should copy their strategies!
The National Economic and Development Authority has also published a Disaster Rehabilitation and Recovery Guide that includes a coordination structure for local governments.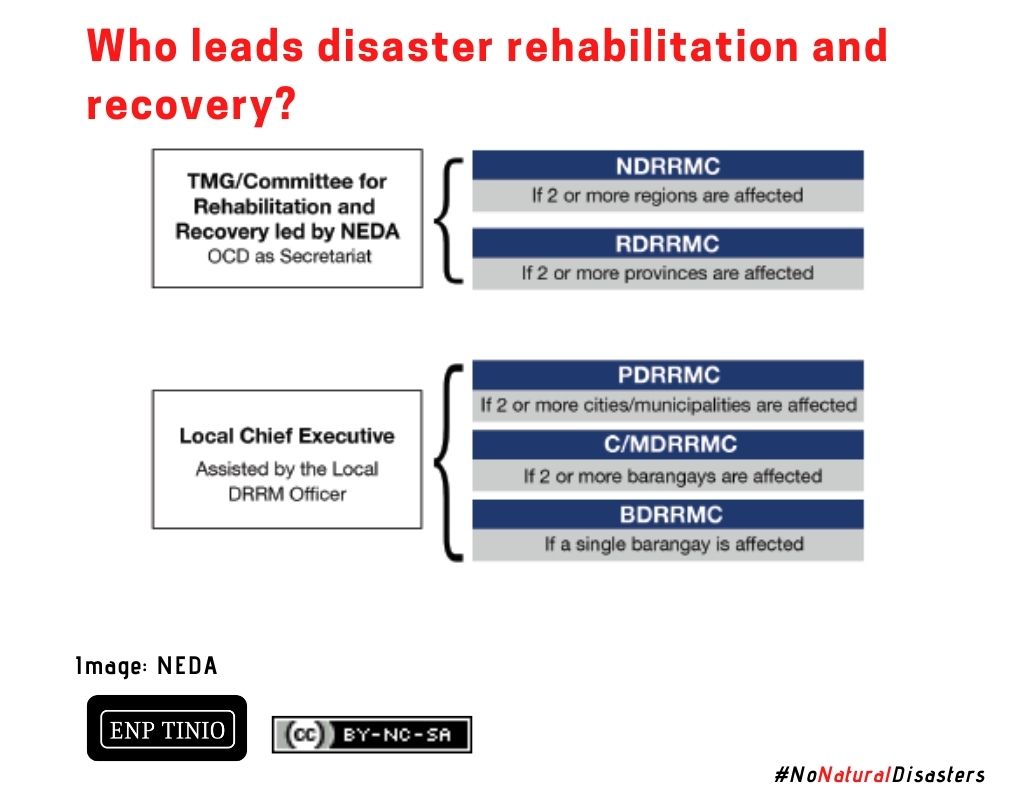 Here are three examples of resilient Philippine local governments.
Province of Albay
Prone to multiple hazards, Albay was declared a global model in climate change adaptation and disaster risk reduction by the United Nations in 2015.
A 2016 paper of Cuevas et al. revealed the importance of having champion in climate change adaptation, which is also relevant in disaster resiience.
Muncipality of La Trinidad
The municipality of La Trinidad is the 2019 top winner of the Gawad Kalasag for Municipal DRRMC for 1st to 3rd class LGUs.
Local cooperatives in the municipality also undergo disaster reslience-related training workshops.
Ormoc City
In 2016, the Japan International Cooperation Agency (JICA) cited Ormoc City as a model for disaster resilience.
JICA commended the city for effective management and maintenance of flood mitigating structures.
In 2018, the Climate Reality Project Philippines also awarded Ormoc City for its "overarching goal of saving the environment." Ormoc City maintains a strong stance against coal-fired power plants.
Conclusion
3 in 4 Filipinos will be living in urban areas by 2030.
The population of the Philippines is projected to double by 2058.
The global carbon emissions must be cut in half by 2030 to prevent the worst impacts of climate change.
As our population continues to urbanize, we must also enhance disaster risk reduction and management.
Community disaster resilience is especially critical because the impacts of climate change are becoming inevitable.
After all, resilient local governments are sustainable local governments.
How to become a Filipino Environmental Planner?
Further Reading
Read next!
---