This post was updated on July 14, 2020.
What is your idea of a sustainable city?
These 7 qualities are essential for sustainable cities.
Defining Sustainability
One of my favorite paragraphs in Charles Montgomery's "Happy City" is the description of a sustainable city.
Each funding organization and international agency has their own definition of sustainability.
Most often, the Sustainability Venn Diagram that exhibits the intersection among economy, society and environment is used.
Read: 4 Urban Planning Themes from the book "Happy City"
My objective is to illustrate that we do have good urban planning examples in the Philippines.
Philippine cities are going beyond obsolete urban planning.
Healthier Cities
The World Health Organization describes a healthy city as
"one that is continually creating and improving…physical and social environments and expanding…community resources which enable people to mutually support each other in performing all functions of life and developing to their maximum potential."
WHO continues to argue that the health of the city depends on "a commitment to improve a city's environs and a willingness to forge the necessary connections in political, economic and social arenas."
WHO details the fundamentals of how to make a healthy city using cases of their Healthy Cities Network.
Architect Felino Palafox, one of the urban planners in my Hall of Fame, also enumerates the "10 Principles for Building Healthy Places."
Interested in solid waste management planning?
Marikina City is one of the models of healthy cities in the Philippines. Marikina is one of the first Philippine cities, even local governments, to protect bicycle lanes.
Higher in Status
"High status" is a vague description, so I define "status" as reputation.
A reputable city is a brand that creates a good name for leaders and citizens.
What gives a city a good reputation?
The Reputation Institute enumerates safety, beauty and leadership as the primary components of a city's reputation score.
Read: 3 Ways How Safe Land Transportation Promotes Sustainable Cities
The 2018 Numbeo list of 10 safest cities in Southeast Asia was dominated by Philippine cities, with Valenzuela City ranking second.
Valenzuela City (2nd)
Davao City (4th)
Makati City (5th)
Baguio City (6th)
Cebu City (8th)
Valenzuela City ranked first in the 2018 Local Peace and Order Council Performance Audit , primarily because of its Comprehensive Safety and Security Plan.
The Plan is one of the Top 10 Outstanding Local Governance Programs in 2018.
More Fun
Fun is a difficult concept to define, as it changes from person to person.
Time Out's City Life Index ranks the most affordable, friendly and fun cities, according to "which ones promise the most fun and excitement."
WalletHub analyzed U.S. cities according to entertainment and recreation, nightlife and parties, and costs.
If fun is about entertainment, then it is hard to beat Paranaque City. It welcomes visitors to the country with the Entertainment City.
If fun is about friendliness, the City of Smiles is the top Philippine city. Its Maskara Festival is a feast of dance and music.
Related Articles:
More Resilient
Urban resilience is often related with proper disaster risk reduction and management.
For a greatly vulnerable country like the Philippines, the definition of resilience as "bouncing back better" has both been a boon and a bane.
Filipino resiliency has been equated to being content of disasters instead of being ready for disasters.
A 2018 study of the Harvard Humanitarian Initiative on Resilient Communities feature many statistics about disaster resilience.
Here are three that cover vulnerability and coping capacity.
Around 64 % of Filipinos feel self-reliant when preparing for a disaster.
82% of Filipinos get their information on disasters from TV.
83% of Filipinos claimed to have discussed emergency plans with their families.
Various sectors are responsible for decreasing the probability (risk) that events (hazards) impact many people and property (disaster).
Government leaders, especially in cities, should know that disaster resilience involves social, economic, physical and environmental conditions.
Legazpi City, Pasig City and Quezon City are top cities in the resilience discussion.
All are multiple-time awardees of Gawad Kalasag, a national award that honors best practices in disaster risk reduction.
Lures People Together
Becoming a community is manifested by places of bonding and gatherings.
The presence of urban green spaces is an indicator of a city's vision towards building communities.
Cities like San Juan in Metro Manila are rehabilitating plazas and parks through the Green, Green, Green program.
River esplanades are key projects in waterway-traversed cities like Iloilo City.
Rewards people for efficient choices
For choices to be efficient, the benefits must outweigh the costs.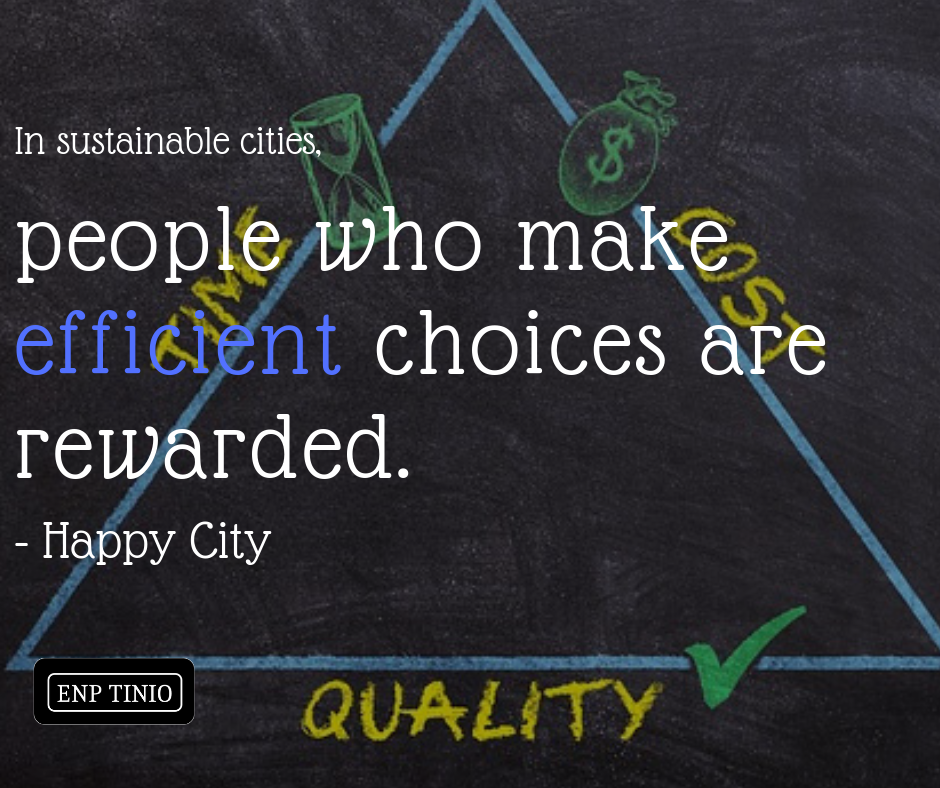 In the global scale, efficient cities are frequently described based on reduced environmental emissions and smart services.
I argue that efficiency can become more practical and immediate.
In food, it can be through urban agriculture.
In transportation, mass transport is more efficient than private car ownership.
Densely-mixed land uses are appropriate for cities especially because of limited land area.
Read about technology and data-driven transportation!
San Carlos City in Negros Occidental is known for its urban farming activities.
Davao City is pursuing a High Priority Bus System ahead of other metropolitan regions.
Working for Clean Air Asia, I learned that the City Government of Baguio is planning to ban some types of vehicles in the central business district.
The strategy is for traffic management, but will also influence air pollution management.
Ensures that the good choice and the happy choice are the same
Everyday we make a lot of choices.
From waking-up until we sleep again, our food, movement and relationships are affected by the choices we make.
In an unsustainable city, the good choice and the happy choice are not always the same choice.
Good choices are more often ethical and moral.
The benefits are for the majority and the minority, not only for the self.
Happy choices are for the self –to satisfy interest, to promote growth, to ensure fulfillment.
Happy City cites an impactful example:
"although…most…would prefer a walkable community…most of us also want to live…with plenty of privacy and space."

Happy City
The good choice, to benefit everyone in the limited space of the densest cities, is to maximize every piece of land.
A good choice is to live in a way that limits land use and resource use.
The happy choice, to benefit the self first of all, is to own private space while also experiencing the health and social advantages of a walkable city.
The happy choice is self-satisfaction!
Frankly, I am lost for an example of a Philippine city where the "good choice and the happy choice are the same."
How to become a Filipino Environmental Planner?
---