The month of May is Land Transportation Safety Month in the Philippines.
Declared through Proclamation No. 115-A, s. 1966 by Pres. Ferdinand Marcos, Land Transportation Safety Month was part of the Safety and Accident Prevention Year.
Land transportation safety is often equated with safe driving behaviors in road transportation modes.
Conceptually, though, "land transportation" of goods and people include roads, rails and pipelines.
The Filipino is more familiar with road transportation and rail transportation, being part of everyday commutes.
Road transportation in the Philippines includes private vehicles, buses, trucks, taxis, TNVS, jeepneys, tricycles, bicycles and other micromobilities that move people and goods over highways, avenues, streets, and alleys.
In this article, I highlight how a safe land transportation system promotes sustainable development of cities and urban areas.
With Philippine urban areas being the home for 76% of total country population by 2030, it is imperative to ensure that these urban areas develop sustainably.
Sustainable urban development is promoted by safe land transportation in three ways.
Safe land transportation produces intergenerational benefits.
Child-friendly land transport.
In Japan, kids aged four or five years old are already tasked with errands.
Let me ask you:
Will you allow your children to go to school alone?
Or buy from the grocery for you with their young siblings?
In the Philippines, latest data revealed that more than 500 children die every year due to road crashes.
The number of children victims of road crashes should be zero, if not minimal.
Designing cities for children involves ensuring road transport and rail transport are safe. This can be done through two approaches: everyday freedoms and children's infrastructure (Arup, 2017).
For cities to incorporate everyday freedoms, the ability to play and socialize is combined with high levels of independent mobility.
Children are free when they are able to go around neighborhoods unaccompanied by an adult.
Children's infrastructure promotes "connected, multifunctional, intergenerational and sustainable public spaces for cities (Arup, 2017)"
These infrastructure include spaces in front of homes, streets, nature and other interventions that "encourage everyday freedoms and social interaction."
Safe land transportation connects various uses in the neighborhood to work with the "smaller scale and unhurried pace of children."
Going to school, learning errands, visiting friends.
With safe land transportation, children can enjoy these activities even without adult accompaniment.
When jeepneys respect speed limits and trucks perform full stops before pedestrian lanes, children are safer even on their own.
Safe land transport also impact parents and guardians.
When cities are child-friendly, intergenerational benefits are undeniable.
Road safety, stronger communities, and connection to nature are just some of the benefits of child-friendly cities.
Parents are able to work without worrying about their chidren's safety in schools and playgrounds.
Grandparents can accompany children in place of working parents. Through park trips with their grandchildren, grandparents get healthy habits.
These benefits also apply to teenagers, millenials, boomers, and other generations that live in these cities.
Related Articles:
Safe land transportation rewards efficient choices.
Cars: inefficient land transport choices.
Most of the image results for a search on "land transportation safety" show car driving safety.
This is not surprising, considering that most cities in the world have car-centric transportation systems.
In Philippine streets, private vehicles outnumber public road transportation modes.
Between 2017 and 2019, the total number of private motor vehicles registered in the Land Transportation Office (new and renewal registrations) had an annual average increase of 11.32%.
In the same period, the total number of "for hire" motor vehicles registered (new and renewal registrations) had an an annual average increase of only 3.1%.
Private road transport modes, particularly cars, are inefficient in the context of dense cities.
Parking requirements and single-occupant vehicles are two issues in private car-central roads.
Parking spaces limit the use of scarce urban land. Single-occupant vehicles result to unequal road use per person.
Public road transport modes are more efficient because these are shared by various commuters.
However, Philippine public transportation, primarily jeepneys and tricycles, are generally deteriorated or not aligned to basic customer service standards.
For example, many tricycles lack weather guards for passengers. Taxis with unsatisfactory airconditioners also charge the same as their satisfactory counterparts.
Public road transport are also often overloaded to compensate for long queues in terminals and low fares.
Rail transportation is also more cost-effective for transporting goods and people across longer distances, both in terms of time and money.
Personally, though, if I have money for a taxi or time to ride the bus, I will not choose to ride the unreliable and inhumane Metro Manila MRT-3.
Besides, long waiting times and cramped train cars, multimodal connectivity between rail transport and road transport is lacking in the Philippines.
Safe alternatives: micromobilities
Moving in the Philippines, thankfully, has become more than a binary choice between private vehicle use and public transportation commute.
The use of bicycles, scooters, and other "micromobilities" is now more a necessity than advocacy.
Micromobilities are travel solutions for short distances, usually distances that are "too close to drive but too far to walk."
The Metro Manila Urban Transport Integration Study revealed that 35% of destinations qualify micromobility distances (covered by 15 minutes on foot or on bike) but are being covered using jeepneys, tricycles and cars.
In the past, bicycle use was to promote cleaner commutes through reducing air pollution.
As public transportation has become deteriorated, bicycles and other micromobilities are now clear choices for the non-car commuter.
One of the integral criticisms of micromobilities, however, is its relative "unsafeness" when sharing road use with four-wheel, "enclosed" land transportation modes.
Nearly half of global road deaths are vulnerable users such as pedestrians and bicyclists. Riding a bike or scooter "exposes" the commuter more.
Think, though, if the "more exposed" commuter is given higher priority for safety.
Wider bicycle lanes that exclude unruly motorcycles.
Protection infrastructure against jeepneys that unload passengers outside of estabishe stops.
Private cars prohibited from parking "on hazard mode" over bicycle lanes.
Using scooters and bicycles will be a no-brainer!
Walking, the ultimate transportation mode, is also enabled by a safe land transportation system.
For instance, the connectivity between land transportation terminals is influenced by factors including lighting, ventilation, and activities.
Walking is a more efficient choice than riding a tricycle because of the health benefits of exercise.
But, will you walk from the LRT-1 station to the jeepney terminal at night, if your walking path is dark and unlit?
Safe land transportation raises the reputation of cities.
The bad image of unsafe land transport
The Reputation Institute enumerates safety, beauty and leadership as the primary components of a city's reputation score.
Singapore, Hongkong, Japan.
These cities are famous for their great railway systems.
Tourists include using these systems into their travel itineraries.
MRT-3. This system is famous for interrupted services, cramped train car spaces, and long waiting times entering the station.
If I had foreigner friends, I would not invite them to try the MRT-3 out for fun!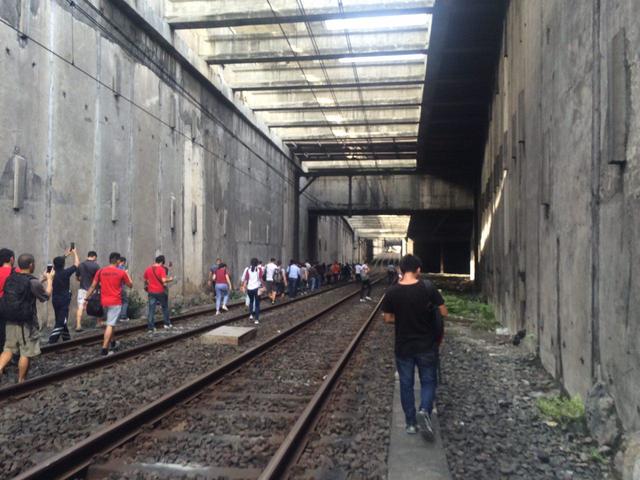 The National Capital Region of the Philippines is consistently one of the worst cities in terms of traffic and mobility!
And heavy traffic congestion in the country is caused by a car-centric society.
One reason private car ownership is prevalent in the Philippines is the view that public transportation choices are more dangerous.
Who would intentionally risk riding motorcycles, consisting 60% of road crashes in the Philippines?
Those who cannot afford to waste time sitting in congested business districts.
Those who can afford buy cars on credit.
Cities cannot be sustainable with unsafe mobility choices.
Safe trucks, buses, and other large-scale transport vehicles ensures continuous movement of goods and people.
Strict jeepney stops saves pedestrians from crossing out into the middle of the road to get rides.
Safe land transportation systems enables crowd control. However, both private and public transport drivers are disrespectful of pedestrians.
#StreetsForPeople have safe land transport systems!
Moving people and goods through effective, humane and timely modes is essential for sustainable urban development.
As the conversations about traffic and mobility become mainstream, let us apply systemic analysis to a complex issue. What we do for one sector will affect the whole!
Further Reading
How to become a Filipino Environmental Planner?
---