Turn goal statements into physical plans.
The Comprehensive Land Use Plan process in the Philippines is composed of 12 steps.
Step 6 is to ESTABLISH DEVELOPMENT THRUST AND SPATIAL STRATEGIES.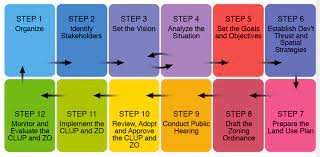 Why is the step important?
Every plan should be aligned with realities on the ground.
Through creating spatial strategies from a chosen development thrust, the LGU is able to visualize where land use and development objectives can be prioritized.
What is the step about?
Through stakeholder workshops,
choose a development thrust to pursue, towards achieving the LGU vision and
choose a strategy for spatial arrangement of land uses
The expected outputs include:
Preferred Development Thrust
Spatial Strategy
Structure Plan
Read: Formulating Comprehensive Land Use Plans
How does it look like in my Tiwi experience?
We proposed three options for development thrust.
We improved upon the envisioned spatial strategy of the Mayor.
Read: How we updated the Ecological Profile of Bacacay
Top suggestions for LGU planners for this CLUP step
Involve as many stakeholders as possible.
Let the data decide, but consider factors beyond numbers.
Need my help in updating local plans?
WATCH VIDEO!
---
Resource Hub: Formulating Comprehensive Land Use Plans
---