A common vision drives sustainable development in the local government unit.
The Comprehensive Land Use Plan process in the Philippines is composed of 12 steps.
Step 3 is to SET THE VISION.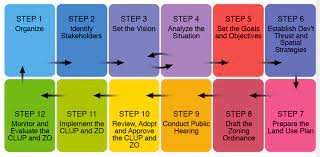 Why is the step important?
Setting a vision is defining a future that the local government unit wants.
Vision is a catalyst for the transformation of LGUs (Teng-Calleja et al., 2017).
What is the step about?
Reviewing and revising the LGU vision towards institutionalizing it through a local resolution.
The expected outputs include:
Vision-reality gap analysis to help in the following CLUP steps
Official vision statement adopted by the Local Sanggunian
Read: Formulating Comprehensive Land Use Plans
How does it look like in my Tiwi experience?
Step 3 and Step 4 were interchanged and iteratively performed.
Vision statement process: Mayor <-> Consulting Team <-> Stakeholders -> Local Development Council -> Local Sanggunian
List of Requirements for the Environmental Planning Licensure Exam
Top suggestions for LGU planners for this CLUP step
Make all data and information available and accessible to all.
Balance participation and timing, being a process-oriented step.
Use the Local Government Code as basis, especially the General Welfare Clause.
My experience in local government planning…
WATCH VIDEO!
---
Resource Hub: Formulating Comprehensive Land Use Plans
---