Allocate land resources rationally.
The Comprehensive Land Use Plan process in the Philippines is composed of 12 steps.
Step 7 is to PREPARE THE LAND USE PLAN.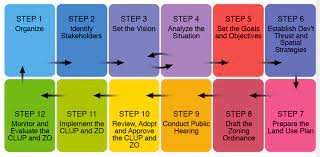 Why is the step important?
The land use plan encapsulates the vision, situation and goals of the local government unit.
Creating a land use map is an opportunity for stakeholders to negotiate their intentions on land use with each other.
What is the step about?
Matching land supply with land demand
Creating a proposed land use map that will be the basis for the zoning ordinance
Read: Formulating Comprehensive Land Use Plans
How does it look like in my Tiwi experience?
Read: How we updated the Ecological Profile of Bacacay
Top suggestions for LGU planners for this CLUP step
Propose. Negotiate. Compromise.
Ensure the support of the legislative council.
Need my help in updating local plans?
WATCH VIDEO!
---
Resource Hub: Formulating Comprehensive Land Use Plans
---