To ensure that plans are aligned, the review and approval process is completed.
The Comprehensive Land Use Plan process in the Philippines is composed of 12 steps.
Step 10 is the REVIEW, ADOPTION and APPROVAL.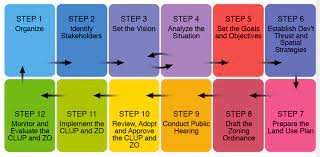 Why is the step important?
With the review and approval process, comprehensive land use plans are ensured to have technical, ideological and political soundness.
What is the step about?
The goal of Step 10 is to review, adopt and approve the draft CLUP and Zoning Ordinance.
DHSUD MC 2021-005 updates the activities in CLUP Process Step 10 previously prescribed in the HLURB CLUP Guidebooks.
Some revisions and enhancements to CLUP Step 10 are:
CLUP and ZO submitted first to DHSUD Regional Offices, then to PLUC or RLUC
Prescribed time periods per review activity
Added requirement: Submission of soft copies of draft, maps, and vector GIS files of CLUP and ZO
Additional PLUC Members: DA Regional Office, Provincial DRRM, OCD
Approved Forest Land Use Plan not pre-requisite for CLUP approval
Read: Formulating Comprehensive Land Use Plans
How does it look like in my Tiwi experience?
As consultants, we were not involved in the review and approval process.
Read: Highlights of Tiwi CLUP Experience
LGUs! Here are 3 benefits of publishing plans online
It establishes trust and transparency.
It attracts private investments.
It engages citizen participation.
Need my help in updating local plans?
WATCH VIDEO!
More Resources
---
Resource Hub: Formulating Comprehensive Land Use Plans
---