Draft a zoning ordinance to implement the land use plan.
The Comprehensive Land Use Plan process in the Philippines is composed of 12 steps.
Step 8 is to DRAFT THE ZONING ORDINANCE.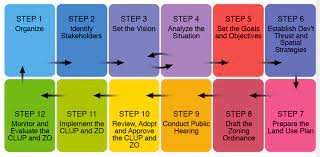 Why is the step important?
The zoning ordinance is a legal instrument for implementing the land use plan. It provides the boundaries, regulations, allowed uses, and controls in each division of a community.
What is the step about?
Translating the land use plan into a zoning ordinance, a legal instrument to implement it.
The zoning ordinance details the following:
Objectives of each zone in the local government territory
Allowable uses
Building density and regulations
Building structure and design regulations
Read: Formulating Comprehensive Land Use Plans
How does it look like in my Tiwi experience?
Read: I was a Project Writer for an an International Climate Project of Oxfam GB.
Priorities for zoning for local government units
Affordable housing and human settlement in urban centers
Resilience to climate and disaster risks
Social safeguards to indigenous, marginalized, and poor populations
Need my help in updating local plans?
WATCH VIDEO!
---
Resource Hub: Formulating Comprehensive Land Use Plans
---